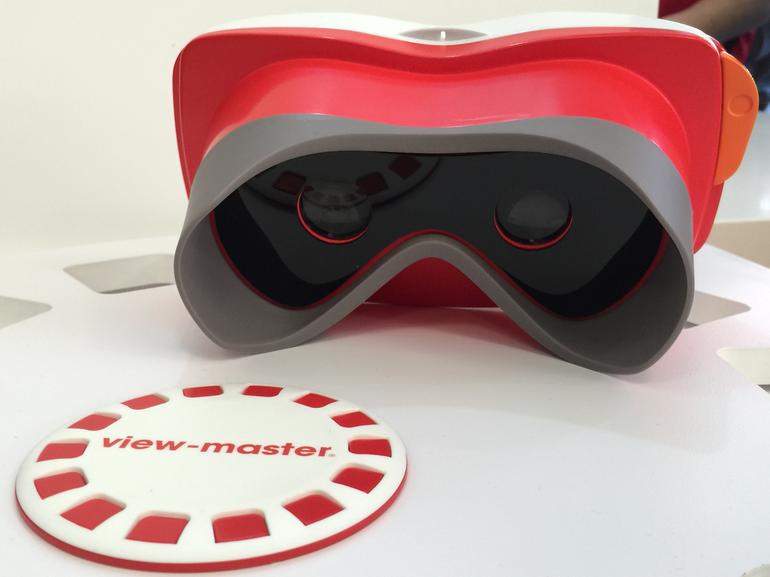 Hands-on with Mattel's new AR, VR View-Master
A View-Master for virtual reality: Hands-on with Mattel's new AR, VR phone toy
Mattel is relaunching View-Master, but as a virtual reality and augmented-reality phone toy. And I got to play around with it for a bit…or at least, some of the tech behind it. 
Announced at an event in New York City, the new View-Master is a collaboration between Mattel and Google, whose virtual reality Cardboard app has enabled cheap do-it-yourself accessories to turn any Android phone into a mini-VR viewer. Mattel's plastic toy, which will debut in October, is like a more durable, plastic version of Google Cardboard, designed entirely for kids…or, maybe, also for grown-up kids like me. And the most brilliant part is it'll only cost $30.
I used View-Master back when I was a little — who didn't? It's a classic 3D stereoscopic picture viewer. Many people had even said Google Cardboard looked a bit like a View-Master. So is isn't a huge surprise that Mattel has suddenly announced a new View-Master with Google Cardboard VR capabilities added. I've always felt that virtual reality reminded me of early stereoscopic toys. And Mattel has keyed onto the same idea.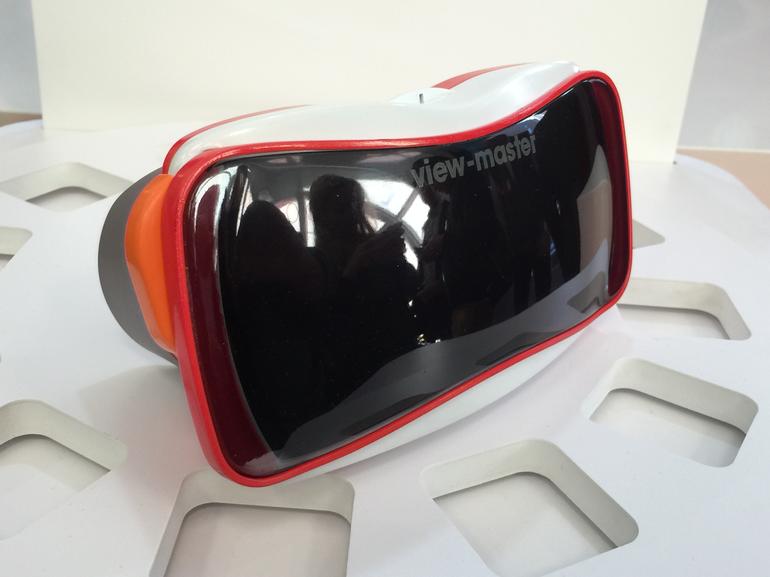 The toy was only viewable in a mock-up prototype form at Mattel's event, but the design's pretty cool: it looks half old-school View-Master, half Oculus Rift. The inner plastic housing extends to hold many types of phones: Mattel says it's designed to fit the largest existing phones, and will even work with the iPhone 6 Plus and Nexus 6. A capacitive-touch side lever is used to "click" through scenes or into virtual environments, like the magnetized side switch on Google's Cardboard viewers.
Mattel's headset is designed with Google and Android in mind, but at launch is intended to work on "nearly all platforms," which includes iOS. That would mean a dedicated Mattel app which interfaces with the View-Master, but Google's Cardboard and Cardboard-ready apps — many of which already exist on iOS, like VRSE — will work too.
Mattel is planning to use View-Master not just for VR, but also for AR; little plastic reels that look like the old cardboard ones are really just flat coasters this time around, now with images on top which the View-Master reads and turns into pop-up augmented-reality models on your table, desktop or wherever else you place it. Multiple View-Masters could use one reel to access content if put down on a table, unlike the old pop-in reels. This type of augmented-reality tech has already existed for years in many apps and on some children's toys like the Nintendo 3DS (with its AR cards) and PlayStation Vita, but mixing it into a VR headset is a novel idea.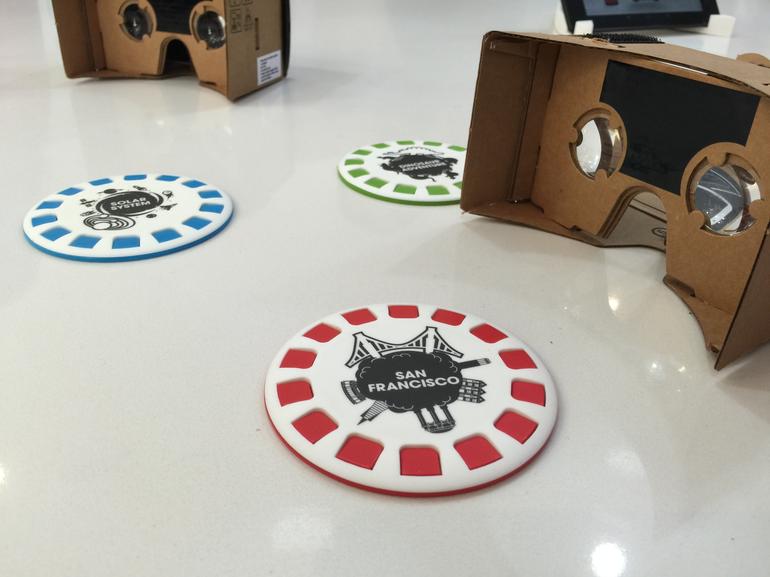 I didn't get to use the actual Mattel prototype, but we tried View-Master's augmented-reality tech on phones and Google Cardboard viewers. There were three reels to try: a dinosaur one made a little dinosaur pop up on the disc on the table in front of me. When I aimed a dot and clicked on it, I was suddenly surrounded by a prehistoric 360-degree panorama with 3D dinosaurs. Clicking on them brought up facts, too.
Looking at the space disc with Cardboard on brought up a pop-up moon and Earth; clicking on it took me to a panorama of the moon, with pop-up clickable photos of NASA missions. A third, San Francisco-themed, had little mini-models of Alcatraz and the Golden Gate Bridge that turned into VR photo panoramas. To exit any of the virtual panoramas, you look down and click on the side…or, remove the View-Master from your face. The View-Master comes with one reel in its $30 package, and extra reels will cost around $15 each. No, older View-Master reels don't work in here, but it sounds like Mattel is exploring re-releasing content from some of the back catalog 10,000 older ViewMaster reels.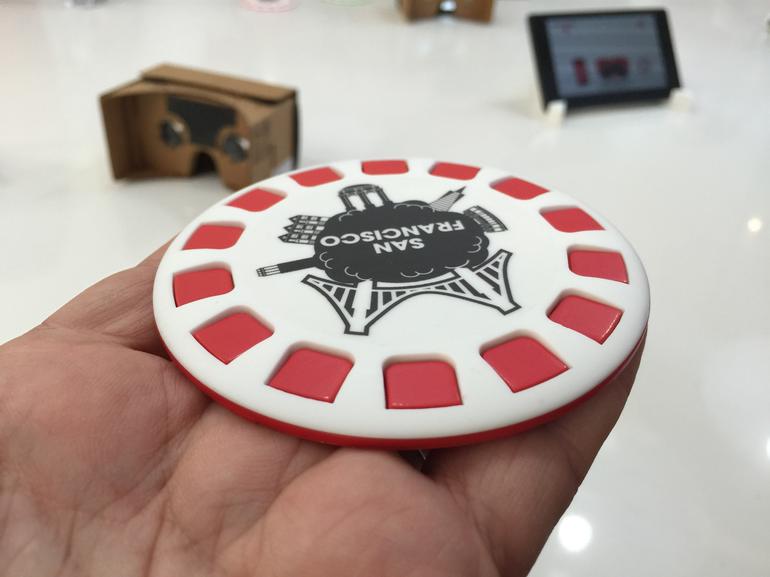 There's no strap to keep the View-Master on: this is a hold-to-your-face toy, much like older View-Masters and Google Cardboard. Mattel has promised that the tech has already been vetted by pediatric ophthalmologists, and is meant for children ages 7 and up — in short, bite-sized sessions.
The View-Master may work with other toys, too, like other app-ified toys in the past, but for now it's really a fancier plastic Google Cardboard viewer, with additional Mattel support. That's not a bad thing at all: at $30, this is a pretty awesome little stocking-stuffer idea, and a fun phone toy. Just keep in mind that if you give this to your kid, it won't work without a phone popped into it.
By the time fall rolls around, Mattel may have other toys ready to work with it. Or, there might be many other companies ready to make cheap phone-enabled VR headsets, too.
Written by: Scott Stein, CNET (via Presence)
Posted by: Situated Research