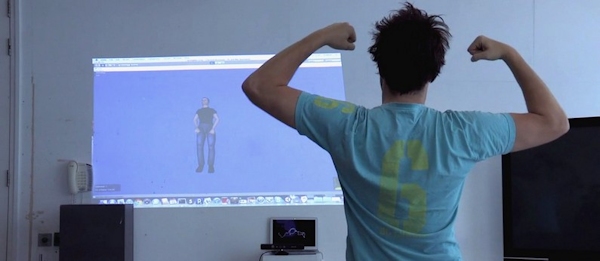 Teaching Video Game Characters Natural Body Language
Video game characters with natural responses to human body language
Researchers at Goldsmiths, University of London have been using theater performers to design computer software capable of reading and replicating the way in which humans communicate with their bodies.
Dr Marco Gillies from the Department of Computing has made virtual characters more believable by enlisting actors to teach them body movement. The actors interact with members of the public through a screen, and their responses to specific body language are memorized as algorithms by the software.
"Two people can take on the roles of the video game character and the player, showing how the character should respond by acting out the movements themselves," explained Dr Gillies. "The software enables video games characters to move in a more natural way, responding to the player's own body language rather than mathematical rules."
Traditionally, the creators of interactive characters are computer programmers, but Dr Gillies and his team puts this task in the hands of people with artistic rather than technical knowledge.
"Our hypothesis is that the actors' artistic understanding of human behavior will bring an individuality, subtlety and nuance to the character that it would be difficult to create in hand authored models," said Dr Gillies. "These are the kinds of everyday movements, that we do unconsciously, which make them hard to program in the conventional way."
Dr Gillies and his team set up a case study in which physical theater performer Emanuele Nargi taught the software natural responses to a player's movement.
One of the players, Goldsmiths student Max Bye, noticed that the virtual character reacted in a human manner: "When I laughed at it, it would walk away disappointed, so that worked very well."
The research intends to help interactive media represent more nuanced social interaction, broadening its range of application. The new technique optimizes the use of the latest generation of motion detectors, and it is hoped that in future this will lead to games that are more emotionally complex and able to respond to more subtle social nuances of human behavior.
Written by: Goldsmiths, University of London (via Presence)
Posted by: Situated Research