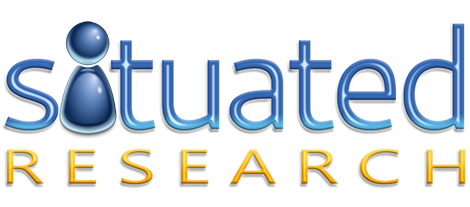 About Situated Research, LLC
Situated learning focuses on learning in situ, in the environment or context for which that knowledge applies. At Situated Research, we focus on examining technology in the actual environment in which it is used, in order to uncover user practices and behaviors that suggest ways in which technology is expected to behave.
We use a mixed-method approach that incorporates a variety of contemporary research techniques. This allows us to construct a very detailed picture of the needs of your end-users. This ensures your users can fulfill their goals and expectations while enjoying the experience of using your product.
Web Design & Interactive Marketing
We specialize in creating context-relevant, culturally-sensitive, effective information that efficiently communicates to your customers. We specialize in the effective communication of information, with specialties in:
Information architecture and information design
Interactive marketing and behavioral psychology
Interaction analysis and participatory design
Human engagement, motivation and activity
Cross-cultural communication and regional cultural dimensions
Collaborative work, distributed cognition and online communities
Online learning environments and their associated pedagogies
Human-computer interaction and mental models (cognitive psychology)
Regardless of your industry, we can help you research your customer base and create targeted information that will get them excited about your products and services.
We have technical skills in web design and interactive technologies, including the use of HTML, Flash, PHP, ASP / .Net, JavaScript, and many other dynamic languages and technologies. We have a complete understanding of both the human factors and the technology involved to allow your goals to come to life.
Our future-oriented approach will help you capitalize on the many benefits of emerging technologies, such as Web 2.0 and beyond: using the web as a platform for user-generated content and collaboration within thriving online communities.
Contact us today at (630) 522-0855 so we can discuss your goals, and solutions to take your business to the next level!
Written By: Michel Ann Sharritt, VP