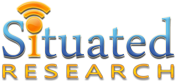 The Usability Insider
Newsletter from Situated Research - April 2011

This month's focus is on usability and how to make your products more user-friendly. Consider the following:
What can game companies do to raise their success rate in building profitable, hit games?

When people visit your website, are they confused or overwhelmed with information?

Have you designed a product that often was used in an unintended way?

Is there a better endorsement for software than "It's easy to use"?

If you want to make your products better for your customers, start by attending one of our FREE webinars in May. Let us help you to take the first step!

FREE Webinars: Upcoming Schedule
Seats are limited, so sign up today!
All the best for you and your business this month,
The Situated Research Team
Follow Situated Research to get the latest news: