Get our free webinars automatically. Pick a subscription:
Webinar Schedule
Our upcoming schedule will be posted soon. If you have ideas for future topics, please email us suggestions.
Recorded Webinars
Social Media Marketing Effectiveness: Measuring ROI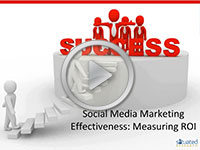 Measuring return on investment (ROI) is crucial for marketing initiatives, especially when leveraging social media. This webinar shares proven growth strategies that leverage social media and Internet marketing, and case studies from businesses that have worked with Situated Research.
Simply knowing how to use social media is not enough: you must know how to utilize it to its full potential. Watch to learn how to translate social interactions into revenue.
Mobile Website and Application Usability Guidelines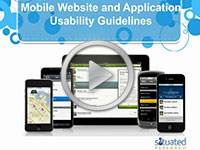 Research shows that mobile websites and apps are becoming a large source of interaction with you and your business, but often contain major usability problems. A well designed mobile application can provide pertinent information to mobile users, through new forms of interaction (such as tapping, swiping, gestures, and notifications). Usability research can help prioritize high-level tasks and goals for mobile users, helping to design a functional mobile application or website that best suits their needs.
Designing the Perfect Dashboard: Simple, Usable, Slick and Actionable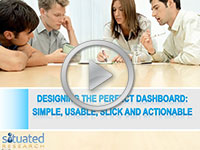 Slick dashboards can give an appealing look and feel, helping users to reengage with software or a website. However, dashboards can be difficult to design since different types of users expect different information that is relevant for their needs. A well-designed dashboard can create powerful interaction by presenting summarized data in a usable way. Usability research can help prioritize high-level tasks and goals for users, helping to design a dashboard with clear calls to action when appropriate.
Gamer Psychology – Designing Hit Video Games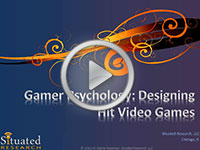 The rate of success when developing video games is relatively low to other industries. Designing a hit video game requires a brilliant concept, hard work, and a bit of luck.
What can game companies do to raise their success rate in building profitable, hit games? User experience research may be the key to raising the success rate, but misconceptions of what it entails and confusion with QA testing often leave it on the backburner.
Designing Software for Meaningful User Experiences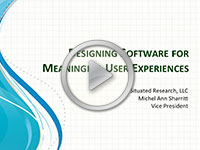 Have you designed a product that often was used in an unintended way? Is there a better endorsement for software than "It's easy to use"? If you want to make your products better for your customers, this webinar can help you to take the first step.
Watch to learn how user-experience research can help you design meaningful, intended software interactions that yield happy and productive users.
Choosing Usability Research: Which Is Best For My Product?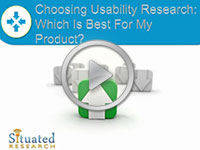 The importance of usability has been documented: according to Rhodes, "Sun Microsystems has shown how spending about $20,000 could yield a savings of $152 million dollars. Each and every dollar invested could return $7,500 in savings."
Watch this webinar to discuss how usability research can improve your bottom line, with specific guidelines on choosing tests that make the most impact on the quality and performance of your product.
Designing Interactive Software and Products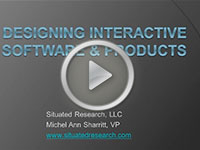 What are users saying about your software or product? A recent study by Karat & Lund described savings on customer service costs, following a user-friendly redesign of a product: "an improved experience by Schneider Automation resulted in $2 million saved in call center support costs over the first 10 months after the change." Incorporating usability expertise ensures that the final product aligns with business objectives: with increased revenue and market share, as well as happier users and better brand perception.
Making Informed Decisions About Your Website Needs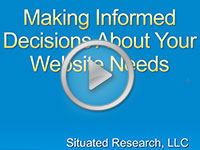 Whether you have products to sell or are just looking to inform people about what you do, websites – more than ever – have become vitally important for small businesses.
Unlike your office or shop, your website can keep you open for business 24/7, and making sure yours is running at peak efficiency is key. Unfortunately, according to a recent survey, 83% of business people believe that their website doesn't meet their needs.
Website Usability: Achieving Effective Communication with Your Customers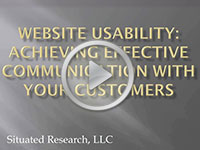 How powerful is the message you present to your customers?
When people visit your website, are they confused or overwhelmed with information? How can you re-design this information to communicate effectively and create a clear call to action?
Watch this webinar to learn how to make the most of your website and create powerful results for your business.
Take Your Website to the Next Level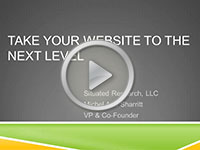 You have a website, but is it working for you? More and more people are using websites like LinkedIn, Facebook and Twitter to talk about businesses and their products with friends and coworkers. These new technologies have changed the playbook for sales and marketing.
Key items like social media integration, interactive website content, and good usability have a massive impact on your ability to do business.
Usability & the Human Mind: How Your Customers Think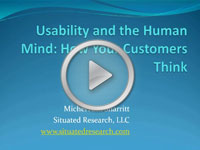 This webinar will help you to better understand the people coming to your website, and what is holding them back from purchasing your product or service, with strategies for keeping users on your website longer. Learn more about why people buy, and the psychology of sales and eMarketing.
This webinar was inspired by our attendance at Usability Week in Chicago, sponsored by the Nielsen/Norman Group.
SEO 101: Getting Down to Basics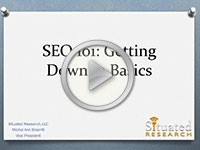 What is Search Engine Optimization (SEO)? Why is it important?
Attend this free webinar to learn what you need to know to optimize your site for search engines. Topics include: SEO Basics, Keywords, On Page SEO, Off Page SEO, and how to Measure Results. This webinar will cover the basics of SEO, and what you need to know to get started or to hire a consultant.
Advanced SEO Strategies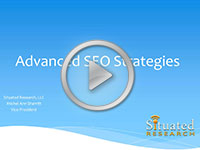 This webinar builds upon the SEO 101: Getting Down to Basics webinar, by providing more in-depth strategies for optimizing your site for search engines to achieve higher search rank results associated with higher website traffic.
Now that you understand search engine basics, you're ready to dive deeper into areas of search engine accessibility, multimedia, sitemaps, page annotations, site security, and more.
Search Engine Optimization & Landing Page Design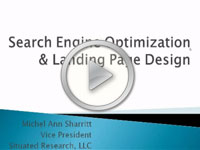 You can get customers to visit your website by using other kinds of expensive advertising or by handing out business cards, one by one. But if you want the Internet to bring customers to you, search engine optimization and highly-relevant landing pages are the best way to go. Using techniques like manual search engine submission, social media marketing (SMM), and targeted ads can automatically drive customers to your website while presenting them with something they're likely to purchase.
Social Media 101: Building Relationships, Online Groups and Brands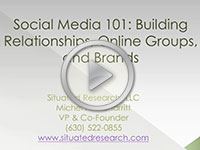 Concluding our 'Social Media 101′ series, this webinar explains how to establish yourself as a 'go-to' expert on social networks to build new relationships on social networks.
Sharing high-value resources from a blog can boost your business marketing efforts and increase the likelihood that your content will be widely 'shared' and distributed, and attracts new followers to your personal or business brand, and to online groups.
Social Media 101: Becoming An Expert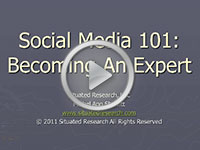 Becoming a 'go-to' person on social networks helps to establish yourself as an expert in your field of expertise. This creates situations where you serve as an expert, which can be a huge driver of business revenue.
By providing your social networks with high-value resources, you can boost your business marketing efforts and increase the likelihood that your content will be widely 'shared' and distributed.
Social Media 101: How to Start a Business Marketing Plan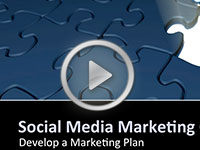 Social media marketing can help your business to increase revenue and achieve a high ROI for marketing efforts. The cost / benefit ratio can often far surpass those of traditional marketing: many tools are free, and have a very wide reach. Social media marketing offers many of the benefits of word-of-mouth advertising, with an exponentially higher 'share' rate. Our webinar will describe the ins and outs of social media marketing by examining actual case studies of businesses that have worked with Situated Research.
Social Media 101: Facebook Marketing and Lead Generation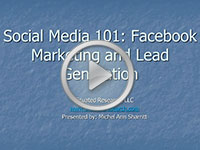 73% of CEOs think social media has little effect on raising their top line. However, social media marketing can transform your business marketing: acting as a catalyst to increase revenue.
With one out of every eight minutes online being spent on Facebook, a huge opportunity is available for business marketing and lead generation. In this webinar, we will show you how to use social networks to generate more leads.
Social Media Marketing Effectiveness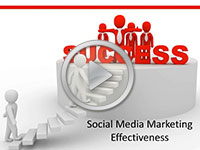 Situated Research opened its doors in 2008 when the economy went into recession, and has managed to grow into a profitable business. Much credit is owed to social media marketing, and we want to share strategies to make your business profitable and maximize your Internet presence through effective social media marketing. Our webinar will describe the ins and outs of social media marketing by examining actual case studies of businesses that have worked with Situated Research.
Social Media: Measuring ROI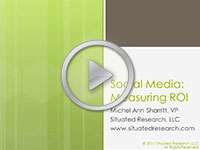 With social media, you need to have tools to measure your progress, and be able to adapt quickly if things go south. Your measurement must be based on quantifiable business objectives. Companies like Dell measure social media ROI by the ratio of negative/positive comments online, and their Twitter feed has led to over $3 million in revenue. Simply knowing how to use social media is not enough: you must know how to utilize it to its full potential. Our webinar will help you and your company to turn visitors into income.