Matthew Sharritt, President of Situated Research, recently created a brochure giving an overview of our video game user-experience research: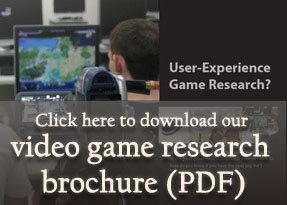 Situated Research: Video Game User-Experience Analysis (PDF)
Please feel free to download, view, print, and redistribute this brochure to others! We have a unique talent to help game developers create better games, and we need your help getting the message out there so people know about us.
In this brochure, we discuss:
The purpose / need for usability research when designing video games
Impact our research can have on a game's success / sales
Some details on our background and inspiration for doing research
An overview of our research methodology
Results: what connections will be discovered among users and gameplay; how to leverage this information to create a better game
Please email us if you have any questions at info@situatedresearch.com.
Written by: Matthew Sharritt
Posted by: Situated Research, LLC